Handrails and Balustrades
Whether it's external or internal, traditional or contemporary, Newton Forge can manufacture a range of handrails and balustrades to suit your home or project.
Our bespoke Balustrades and Handrails can be formed to almost any shape from a simple straight run to spiral stair.  At Newton Forge we work closely with an external set of structural engineers to ensure that the safety and design of your balustrade or handrail meets all relevant standards. Not only are you purchasing a beautifully made balustrade or handrail, but also our expertise which will guide you through exact fabrication drawings, calculations and meticulous planning of installation.
Handrails and Balustrades: what's best suited for your project?
Stainless Steel – Strength and modern with a stylish finish.
Mild Steel – Most popular client choice, heavy, robust and a cheaper alternative to iron.
Galvanised Steel – Great for walkways, stairs and handrails due to it's high level protection.
Brass – Perfectly situated in homes, hotels, restaurants and shopping centres, known for it's classic style and hardiness.
Bronze – Hard-wearing luxury material, used for it's decorative terms, colour and resistance to weather
Wrought Iron – Very malleable, in the last two centuries it's proved to be the easiest to forge and used mainly for restoration and historic metalwork.
Cast Iron – Can be formed into limitless shapes and resistant to rust, can be cost effective if you need larger quantities.
Balustrade sections and components:
A Balustrade is a combination of handrail, spindles, base rails, posts and fixings which together form a railing system that fixes onto staircases or balconies to prevent people from falling. Building regulations state that a staircase less than 1000mm should have a handrail at least one side, and stairs with a width of 1000mm or more should have handrails on both. At Newton Forge we will help work with you to design a high-quality balustrade system that is safe and thoroughly thought out, so that you don't have to.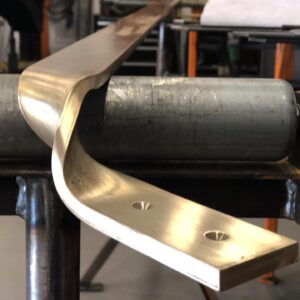 Bending Brass can be complex, but if prepared, heated and treated correctly it can be formed into some fantastic curves just like our recent project.
Our client asked Newton Forge to manufacture and install a new 5m handrail to cover 19 steps. The handrail was hand crafted from 50.8mm x 9.52mm flat brass bar and finished with a patination to match the colour of bronze.